April 03, 2012
Hey dolls! To show my appreciation for your support and all your lovely comments, tweets, emails, and everything else- I put together a special little prize package for one lucky winner. It's the least I can do for such an amazing group of girls I've gotten to know over the past few months. I may be adding more to this giveaway as time goes on so be sure to check back!


Included is over $60 worth of products:


1. e.l.f. Glossy Gloss in Pink Candy
A high shine, moisturizing gloss for the perfect pink nude lip. Click here for my review on the product.
2. Red Cherry Human Hair Eyelashes #20
Gorgeous dramatic lash set.
3. Covergirl LipPerfection Lipcolor in #355 Tempt
Insanely pigmented color with blue undertone to make teeth appear whiter. Click here for my review on this shade.
4. MAC Watch Me Simmer Limited Edition Lipstick
A beautiful pink coral shade with an amplified finish. I snagged it this morning when the Reel Sexy Collection launched online and in literally seconds it was sold out! This is a super popular color that you won't be able to find anywhere since it is limited edition and no longer available on the MAC website. I will be reviewing it soon too.


5. 6 e.l.f. Mineral Makeup Brushes
My favorite cruelty free, incredibly soft makeup brushes. They are truly amazing quality and never shed.
Just use the entry counter below & in one month on May 4, 2012 I will be choosing a winner at random.
Unfortunately this giveaway is open to U.S. residents only. I will be hosting many international giveaways in the future so don't be discouraged!
I paid for all the prizes with my own money.
Thank you, and good luck.
<< CLICK READ MORE TO ENTER
a Rafflecopter giveaway
The winner correctly followed all the rules and has been contacted. Thank you to all who entered.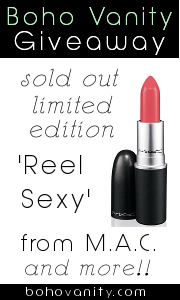 Welcome
Jordan 21 Virgo United States
This blog is an expression of my love for beauty, art, style, and all things bohemian or topped with a bow.
Put on some music, pour a cup of coffee and stay awhile.

Instagram

Archive